buying SOCCER FOOTBALL CARDS for sale
PLEASE SEE THE NEWER WEBSITE: www.footballsoccercards.com
Cards on this website www.rarecards.co.uk are for sale but please ask before buying. It's an old site.

LEFT: the 2020 book which changed soccer cards collecting; RIGHT the 2021 follow-up book:
Football cards were first made as far back as the late 1870's, in England. Rugby aside, soccer
cards came about in the early 1880s. Soccer stars on cards? Arthur Wharton 1885 was the 1st!
Forget the popular myth! Italians did not invent the pack of soccer cards.
Sports cards and stickers were British inventions.
Soccer stickers were first made in 1914, in Scotland! More on this & much more in my two books.
This site is run by the cards expert as seen on the TV show "Stuck On You" (2018).
For news on soccer and sports cards books and selling /buying sports cards please follow these channels:

To entre the Olde Shoppe, the old website, just click on Law, Charles & Baker for more: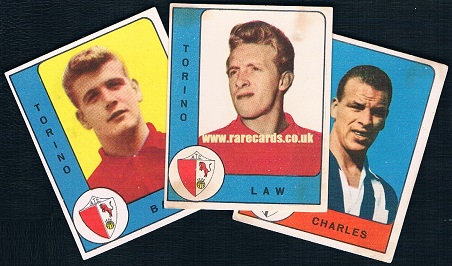 This site is by the founding editor of Football Card Collector Magazine
This site is copyrighted by the same editor. 1996-2020 © C Wilkes ©
For the best channel - ever - on footy cards info click the banner below: