buying collections FOOTBALL SOCCER CARDS also for sale
PLEASE SEE THE NEW WEBSITE at: www.footballsoccercards.com
REMEMBER this website at www.rarecards.co.uk is the old one. Please ask before buying
Cards for sale here will not be repeated on the new website.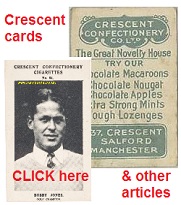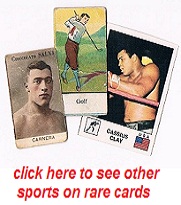 to SEARCH for players, teams, manufacturers, etc. please SCROLL DOWN this page...



SEARCH for players, teams, manufacturers, etc.
** please please please READ the VERY HELPFUL SEARCH TIP explained below :
**HELPFUL SEARCH TIP : at the search results page click on 'Images'
as using 'Images' you'll see just pictures of cards, not long lists of text and details
(and please ignore the top band of Google adverts for other sites pictures)

WANTS? Send us your wants list.
We will work to find the cards you need.
We may even have them in stock!

We sell only the rarest soccer & sports cards
only very rare football trade cards &
only very rare sport tobacco cigarette cards.
we BUY very rare cards, TOP prices paid!
we PAY £25, £50, £75 & more for each VG card by
Bunsen, Batger's, Crescent, Fedora, DiDasco, Baines, etc.

For a bio/pic of John Allen : click here
For the old articles page click here