F.C.C. ||:|| www.rarecards.co.uk ||:|| RARE FOOTBALL CARDS ARTICLES Updated 02:X:2014
JOHN FITZHUGH AUCTION RESULTS from the last sale will appear here soon...
NEWS the articles page will soon be over-hauled, updated and added to ... news & articles to come, by September 2014...
but the news for now is keep your eye on John Fitzhugh! Preston North End & Sheffield Wednesday LOVELL's rarities coming up next week in
John Fitzhugh's next sports auction, as well as 3 more V.C.C. cards SPURS BLADES & SOUTH SHIELDS! ... see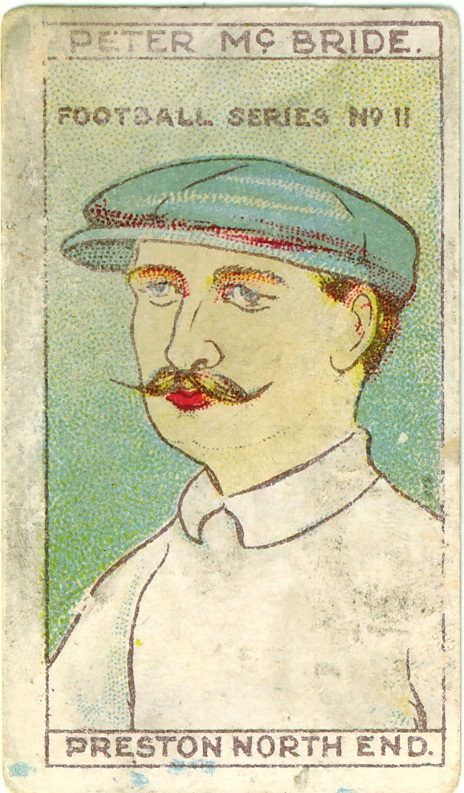 30 JULY 2014 : more VCC cards in John Fitzhugh's Sports cards auction, closing date for bids is 10am Wednesday 30 July.
John Fitzhugh continues to sell some extremely rare 1920's VCC cards, and that's not all! This time he also has Lovell's 1910 reliquaries,
amongst other saintly football card treasures that are due to tease collectors afore August sets in. See the article below this, for images of
some of the cards he sold last time, with prices realised
Don't miss John's auctions of truly rare cartophilic gems - or do so at your peril!
Victoria Concordia Crescit : update to the on-going sale of VCC rare cards by John Fitzhugh.
John Fitzhugh has more super-rare 1920's VCC cards and they are coming up for sale in the JFSC auction in early July.
Victoria Concordia Crescit? Maybe. Victoria (Park) Cricket Club? Sweets trade card issuers Poppleton, Bunsen and VCC all had
east London bases a stone's throw from Victoria Park, where there was - and still is - a cricket club, not to mention the proximity of
Highbury, the Arsenal home in those golden years of yore. VCC, and the others were based on Roman Road, or Bethnal Green Road.
Both streets are major east-west thoroughfares situated south of Victoria Park. For a very brief time cards were issued by VCC (c.1923)
before Bunsen and shortly before Barratt issued similar sports cards, notably football cards. These VCC cards are as rare as any
Bunsen or Poppleton's card and are much rarer than most Barratt issues. We are very fortunate to have this chance to fill those eternal
gaps in our collections. Contact John with your bids - click to see his auction list here: www.jfcollectibles.co.uk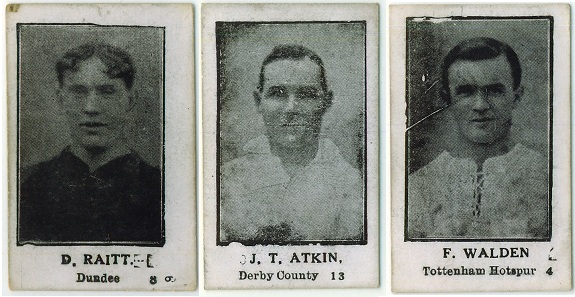 3 VCC cards - as rare as rocking horse manure
Prices realised were, left to right, above: £155 for Dundee's Raitt, £190 for Derby's Atkin, and £190 for Spurs' Walden!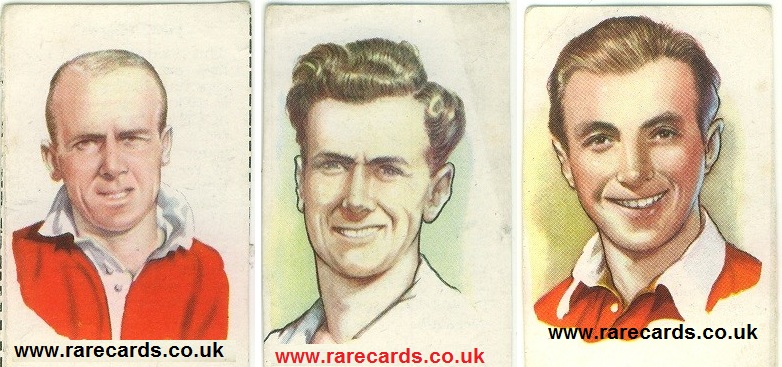 and these gems - just as rare!
All fetched way above reserve! These are triple figures cards, one and all!
Article #4 :
John Fitzhugh Sporting Collectibles is THE auction to go to for the rarest of football cards on today's market. Let's take a look...
I have long been championing the realistic valuation of very rare trade cards. I accept that some of the cards on the market are quite expensive,
e.g. £100 for a soccer trade card. Yet £1000 for a rare stamp wouldn't raise an eyebrow - and stamps often sell for much more than that. When rare
cigarette cards sell for £500 there's also barely a squeak. Yet, though a particular trade card may be far rarer, there is wailing and gnashing of teeth
when even £100 is announced. Let's not forget, cigarette cards are just another type of 'trade' card, and many cigarette cards are far easier to acquire
then most trade cards (at least those trade cards from before 1975). Saying that, most stamps are far easier to buy too. I can find 1,800 Penny Blacks
on sale today. Try it. You'll see over 1,800 Penny Black stamps, from 1840, selling at high prices up to £16,000 - and that's just the ones I found on the
British Ebay site. Now try to find Pattreiouex football cigarette cards. Well, even though they are meant to be less valuable than Penny Black stamps
I see far fewer. I can find only 470 different Pattreiouex football cards for sale. Type for type, that's about 4 times as many stamps as fag cards. Yet rare
stamps are meant to be rarer than football cards - they certainly cost more! Moreover, 1920s cigarette cards are often thought rarer and more valuable
than post-war trade cards. Well, let's look again. This time let's look at football trade cards from the post-war years. I see only 12 different Barratt 1947
football cards for sale on Ebay. Only 12! Let's try the 1960's... what about the English football player cards from the 1962 World Cup. 0. Null. Zero!
Yet they were produced by three European publishers, in the tens of thousands - if not higher numbers - and so few seem to remain. There are none for
sale on Ebay. Further, there are none for sale from any football card dealer I know, apart from yours truly. Now, let's also take a look back in time,
at pre-war British football trade cards. There are no c.1923 V.C.C. cards for sale on Ebay, and none with dealers, yet they too were once produced in great numbers, and collected by thousands of British children in the 1920s, at the same time their fathers were smoking Casket cigarettes and collecting the Pattreiouex cards - the likes of which can be found in their hundreds on Ebay, and in their thousands at card fairs. Not V.C.C. cards though!
There are none of them. Neither do I find Bunsen, nor most other early trade cards. There are barely a handful of 1920's Barratt cards for sale. Even 1950's trade cards are found in fewer numbers than 1920's or 1930's cigarette cards. Casket "RF" large team photo cigarette cards are very rare and have been
reaching prices over £100 each since the 1990s, yet I know many collectors who have the Casket Cigarettes sepia tinted team card of their choice, having paid £50 to £150 for it. I don't know many collectors with Bunsen cards, or V.C.C. cards or ... even John Allen's 1988 series "London Legends" cards (a signed, numbered and embossed set of 100 different footballers, of which only 5 of each were printed).
So, were a Casket "large RF" sepia team card typically worth £100 - and many fetch above that price, and have done for over 20 years - then a
1962 World Cup gum card of Jimmy Greaves should be worth the same. I know of three people with the same Casket "large RF" team card, yet I
know of no one, aside from John Allen (RIP), whose collection includes a 1963 Baggioli Arsenal card of Baker, nor a 1958 sticker of John Charles by Sport
Napoli, nor a 1962 card of Blades' & England's Alan Hodgkinson, of the "Mondiali di Calcio 1962" World Cup series by Ediz.Raccolta-Mira.
The only others of this series I know of, that are not in my hands, are the 5 or 6 that I sold, of Malcolm Musgrove, Roger Hunt, Bobby Robson, etc.,
at around or well over £100 each. Now they are gone I doubt I will see more. Further, I know of the Bobby Robson Spanish 1962 sticker but neither John,
nor I have ever come across it. I know it's out there but I also know, like the 1962 Italian issues, it's are far rarer than even a Pettreiouex 1922 'large RF'
sepia-tinted Casket Cigarettes team, which regularly sells for around £100. It is fair to say that these very rare trade cards are worth more than £150 each, because that's the price paid regularly for easier to acquire cigarette cards. As for Bunsen and VCC cards, and the like, prices recently realised are also
well into three figures. The savvy amongst us know where the market is going; they know this could be the last chance to get a VCC or a Bunsen...
Good news! May 2014 is a rare moment in time. Available are a small selection of 1920's trade cards by V.C.C., an east London firm of sweet cigarette
issuers, erstwhile rivals to Barratt & Co. Offering these, through auction, is John Fitzhugh. "JF Sporting Collectibles" has 3 footballers and 3
cricketers in their next auction, in a few weeks' time. John Fitzhugh has already sold a handful of such rarities. Prices have been regularly surfing
the triple figures bracket. Here's John's website address. Go and check-out his auction list. The V.C.C. cards are listed and have images too.
Some of the recent sales are shown here, with an example of what's on the backs : www.jfcollectibles.co.uk
These VCC gems recently sold for well into 3 figures (£xxx.00)
Whilst I was writing the above article I was also tuning-in to an excellent on-line sports cards auction in Nottingham, run by Tim Davidson,
whence rare Baines and Sharpe's rugby, cricket and football trade cards, c.1895 to 1910, flew out from under the gavel, each for up to - and over -
£150 (including commission). There were very rare fan-shaped 1890's rugby cards, some of which topped £75 each (with auction premiums) whilst
the cricket rarities went off the scale! Most of these rare cards sold to well-known card dealers so they will re-surface on the market soon.
HOT :

Get them before they are gone!

CIGARETTE CARD of Peter Thompson, Liverpool star, for England, at the 1966 World Cup. FEDORA TOBACCO issued this and others, only in The Canary Islands (Spain) in 1966.

EXCEEDINGLY RARE - some Fedora cards are mentioned in the Cartophilic Trade Index but not this one! It may be the only one you ever see. A gem from The John Allen archive. GOOD+PLUS (to VG-MINUS) SOLD GBP £100.00 Sterling. SOLD

A HANDFUL OF OTHERS ARE AVAILABLE. To see other cards from this very rare 1966 Spanish series CLICK HERE
New article coming for June 2014: sports cards as currency.
a particular A&BC GUM CARD, which cost 1p in 1973, will be worth more than £20 in a few years' time.
In 1973 x = 1p. Available in every schoolyard for a swap or from every sweet shop sooner or later (x packets bought)
In 1983 x = 20p. Available at every card fair, few in football memorabila collections, more in card collections, lots available.
In 1993 x = 2.00. By now even more have been sold / are in collections, still circulating yet decreasingly so, prices rising.
In 2003 x = 5.00. Now even more are in collections, and fewer remain available to buy. There are, of course, no new printings.
In 2013 x = 10.00. Fewer than ever left on the market in dealers' stocks; more than ever in collections. Harder to obtain.
In 2020 ? £20.00 + and upwards.
A recent Radio 5 Live sports commentary, including this line about Bitcoin, a few Sundays ago:

"Well that's what you get for investing in money that's not really there!"

Yeah, right guys ... as if [QE'd] Pounds Sterling are "really there", in your bank, or even maintaining their value.
It's all paper, out of air. Banks don't have stashes of gold any more. It's all figures on computers ... and algorithmic trading that
benefits a few, at the expense of all.

And, we'll be commending Tim D., auctioneer supremo,
for his honest & truthful encouragement, to a hesitant bidder, a few weeks back:

"Be brave sir, it's only money"

Quite right Tim! Cards are often worth more then today's money. More soon ... in early May.
Article #3.
Published 29th April 2014.
"Ebay - Buying: Dealers' Delight |:| Ebay - Selling: Dealers' Russian Roulette |:| Ebay for collectors ... hard graft! "
One of the oddest pleasures Ebay provides, these days, is plundering other dealers' offerings, buying rarities that you just know
you can re-sell and make a profit on. Of course, the inverse happens too; the last hour of your sale arrives and you see no buyers,
or worse, far worse, another dealer has placed a cheap, dirty 'n' low bid - and it's too late to cancel the sale!
Moreover, have you ever found yourself selling a gem, waiting patiently for a buyer, and you see the very same item elsewhere, priced much
higher? It sells! Yours doesn't. For example, the Jack Nicklaus Quelcom golf card from Spain, which can be had from www.rarecards.co.uk
for a very reasonable £50, is presently on Ebay, offered by an American seller for $1,200.
I have no doubt it'll sell before my copy does but,
when it comes to selling, I am not that fond of Ebay.
For buying, yes! That can be rewarding but it needs some work!
It seems these days it's easier to find a bargain, or a rare card, priced
way too low - well under-priced - than it ever was. Yet you need a lot
of time and you need sophisticated search criteria settings to ensure
that the gems you want are always spotted - by you first.
For selling, the Ebay market these days seems top-heavy with dealers
and I use it on free-listing days to put a few 'loss-leaders' up to attract
people to ... here.
Most collectors just don't have the time to go through endless lists of
the same kinds of items, looking for one card that catches their eye.
Dealers do. They have to.
Yes, an Ebay novice collector may search for 'Crystal Palace' but he's
just as likely to be shown cut-glass and Cindy Doll houses in results. Refined
searches in select categories bring Eagles shirts and pennants, Palace
badges and mugs, mass produced in Chinese backwaters but not the card
he seeks; not the nowadays impossible to find 1988 John Allen release,
'London Legends' (only 5 numbered cards ever issued, per team).
Further refining searches, to 'trade cards', etc., may cut-out bargains;
searching the 'correct' sections of ebay will often help you miss the gems that
innocent, naive or careless sellers have mis-listed in other categories,
like, a few years ago, the infamously mis-listed MacDonald's Tontine
Bury FC card that was listed in ephemera: old paper, and was bought by a paper scraps & old invoices collector for just £2!
Further, maybe the seller has mis-listed that Millwall 'Boyce Bros. of Deptford Bridge ' tobacco card - as rare as any 'Tontine' card - and
it's selling - or not - under 'milwall' in ebay's ephemera sub-section, 'old photographs', or as 'millwal' in postcards or as 'mllwall' in antique
prints and lithos! Or ... a seller lists it for sale during a holiday, when no one is looking, or on a foreign Ebay site, with non-international
postage options! It can be like looking for a needle in a haystack.
Buyers are often much better off with FCCM & going to card fairs; putting names on dealers' wants lists. It's more direct; it takes less time
and is less hassle; though other collectors may well beat you to that elusive card. With FCCM 1000's of buyers all see it at about the same
moment, when the magazine arrives. However, you still have to use the online auctions. Every now and then there comes a rarity you need,
at a good price too. Continued below, aside this screen grab from this very website other Jack Nicklaus Quelcom (bargain!) ...
above : on Ebay now, for £750 ... and below, on this very website now, for only £50 from us - including postage!

Well, whatever, Ebay and Paypal are smiling!
Work on, work on dear seller... write-up that card,
list it, edit it and upload the scans - and
pay the Ebay fees.

Online auctions like Ebay offer a well-sighted perch
for eagle-eyed dealers, with steady commitment &
hard work, however, Ebay seems to serve the collector
less well, these days.

Searching thousands of lots may lead to search-weariness, where you don't find what you have been hoping to find. It's boring searching pages
of stuff you don't want - and have you tried looking through long lists of cards finding endless mass produced stickers, pictures of Sun
Soccercards, or the same Topps cards, again and again? Snorrrrr. Fact: there are, at the time of writing, around 62,000 football cards
and about 73,000 stickers listed on UK's Ebay site alone!

Eagle-eyed watchers will have noted how some cards on eBay go 'AWOL'; how scarcities you rarely see either do not get bought, or do not make
very high prices. I am presently looking at 4 or 5 extremely rare 1970's trade cards, offered on Ebay. Each are of really top British footballers
of the day. They are Italian cards. They were never issued in the UK. They are amongst the rarest trade cards of the 1970s. Their starting prices
are almost too good to believe, at mostly 4.99 and 9.99 each, i.e. they are at prices typical of scarcer but obtainable A&BC cards of the era,
yet there are no bids! This is crazy ... a week has passed, and in just 2 hours they'll be gone. I decide that I shall have them. I have been able to
sell these cards for £35 to £75 each, in the past. There's only 2 hours to go. I decide not to 'watch' them, per se, as 'watching' items in the Ebay
manner merely invites trouble, as Ebay shares watched items, as it does with items that have bids! Want something? Seen something? Then
don't 'watch' it, nor bid too early. Put it in your diary and come back, on the day, at the hour. It usually works, however, it has been known
for sellers to panic and remove items that have no bids, a day or so before the sale ends. That's tough! I've been there too, writing after-sales to
find out a card was not only removed but sold off-ebay for a quarter of what I'd have paid.

Whatever, Ebay does well. Most sellers are working for Ebay, almost gratis. Well, what if a seller lists 100 cards and 10 sell it's a downer, or even
a disaster. Only Ebay and Paypal win. Ebay gets its listing fees and, nowadays, takes a part of the postage fee too! Paypal get their
bit on the sold items also. Many sellers are wasting their time on Ebay, due not solely to these costs, but to the time time spent editing and
uploading sales, which a seller may pay 4 times! (1). listing fee (2). postage costs fee [how Ebay have the nerve!] (3). final value fee (4). Paypal fee.
Remember Paypal and Ebay are one. Sellers may make 4 payments to the one firm for 1 sale.
Poorly performing cards a waste of time, as a seller. Imagine: a seller sells 5 cards, for £2 each, to 5 different buyers.
That's 5 packages to pack, 5 addresses to print or write (some people even pay Ebay for this too!) and 5 mailings to send. Ebay charge a percentage
on your postal costs too. With the time it takes, packing and posting, and fees - not to mention tax - your initial £10 sales total is slashed to a half,
or less. In fact you get less than the minimum wage for your efforts - and remember, the cards had once cost you something too. You bought them,
and you may have also paid postage to get them. It's not 100% profit you make on eBay. You are maybe taking 50%, or less, of that £10 you made.
After those nibbles from Paypal and Ebay, and after the graft, you make just £2 for 2 hours work. On top of that the taxman is looking at you too!
All that Feedback only means one thing. It's the taxman's tally. Thousands of positive feedback comments, left for you, as a seller, may have
hidden costs in the future, though you may not have reckoned on it. Ebay feedback is a permanent record, visible to anyone,
including to Bernie Ecclestone's little helpers in the tax office. If you want to hide 2 billion from The Revenue they'll cut a fine deal with you; but
if you make a couple of thousand on Ebay, they'll be after you, unless you have a business that carries up to date accounts.
I use Ebay not to sell, per se, though I do list items for sale, and occasional sales are sometimes welcome, but I use Ebay to specifically attract
collectors to me, to my own website, whence, when I do sell items, all profits are mine, and not for Paypal-Ebay. On my own website I can list freely,
and not only do I escape listing fees, it means I don't have to follow stringent rules set by those corporate stiffs at Ebay-Paypal, nor do I have to
suffer from their daft levels of political correctness, nor worry that someone will file an unjust complaint - it happens - nor leave bad feedback.
Ebay's not all dismal hard work though. Selective fly fishing in the waters of (and off) eBay can land you some good catches - even the rarest Tontine
and Boyce Bros. Tobacco footy cards have shown up now and then, though the 1980's and early 1990's signed, embossed & numbered John Allen
limited, special edition cards never do. I remember them, and I wish I'd bought 1 of each now, seeing how they are on so many wants lists. The
John Allen archive contains 1 of each (about 100 different, 1 for most clubs) of most of his releases but not all.
News will appear here as and when we know more of them and have images to show you ... even the images are not available anywhere online.
If anyone out there bought 1 or more of these cards (they were many years pre-FCCM) from John at Portobello Road or at Alfies Antiques Market,
in West London, c.1984-1994, please let me know details, thanks. These cards could end up being the rarest modern cards of all.
Article #2.
Published 2nd April 2014.
"FCCM issue #34 Football Card Collector Magazine, available & full of rare gems"
When Garry Daynes' "Football Card Collector Magazine" (FCCM) arrives in the post it
marks the start of a frantic yet enjoyable search through 200 pages crammed-full with a
million soccer stickers, football cigarette cards and footy trade cards of all descriptions; cards
dating from the 1880s, through vintage to classic modern, and contemporary cards too. From
F.K.S. 'Soccer Stars' stickers of the 1970's, to Guinea Gold cigarette cards of Edwardian gents;
from 1950's A&BC Gum 'Footballer' cards to 1920's Boys' Magazine team supplements & up to
1990's glossies, whatever you seek, FCCM has it - and more, much more! When you rip your latest
mag free of its envelope, you know one thing for sure; it is a given: FCCM is certain to have at least
one rare card that your collection lacks; a card you have been searching for - a card that others are also seeking, just as keenly.
Will you get to it first? Your Ipswich-bound envelope is long prepared, stamp applied. The local post office clerk is on standby.

Yet as you write-out a cheque & fill-in the order form with desirous wants, seal & send off the letter,
a nagging sensation that some other, cannier quick-draw collector is already couriering his or her
order - for the very same rarities - haunts the mailing and subsequent days' waiting. Will the reply
contain a miserable refund or will it herald that rare, one-off exotic & semi-mythical issue, the one
that was never available in the UK, of which FCCM has found just one copy, which the editor bought
in Brazil, on a recent holiday? Yes! At the next card moot you'll hear the howls of anguish from those
who were not so fortunate. You know the feeling, you've been there too. The worst thing about
missing the rarities is, having scoured all 33 back-issues of FCCM - finding none - you know there is
not much, if any, likelihood of them ever turning-up again. Naturally this applies to antique cigarette cards and rarer-still trade
issues of yesteryear, for example,
the 1920's Bunsen and Crescent cards. Yet we need not look back as far. The modern series
by Ava Americana (1977) of mint 'framed' football stickers is very rare in itself. You still have a chance at acquiring them but
most are now all but impossible to find. Do look at FCCM. Enquire now, as there are some therein. Get them afore they're gone.
Yes, the Crescent and Bunsen cards are rarer & more costly than the Ava '77-78 'framed' stickers but all these are ever going-up in
value. So, why are the Ava 1977's heading to similar extremely rare ends? Well, they were issued by an Italian firm, Moderna-Flash,
under the Ava Americana imprint, as a timely test of the newly defined, trade-friendly, boundry-free business block, The EEC (the
forerunner of The EU), just as long-term rival Panini issued its first UK set, under its own name, 'Euro-Football'. Moderna-Flash's
Ava set was superior, and full of Brits in team colours, though
oddly less popular than the Panini European stars and teams collection
Distribution issues & a 3-way mêlée with established rivals FKS, Panini (pre-1977 for GB's Top Sellers) & Topps
was no doubt damaging to the albeit higher-quality set by AVA, 'Football Special (1977-78)'. It was succeeded,
in 1979, with a much lower quality sticker set, produced in the millions, which is still easily available today, as are
stickers from the Panini 1977 series, & cards by Topps. However, the Ava 1977-78 series stickers, the ones with
the peelable frame - a stylish extra that was discarded as soon as the stickers were mounted into the
album, are by far the rarest of that era, and a bargain at the prices in issue 34 of FCCM. Do not miss them!
These Ava 77-78 stickers, mint, have sold for up to £25 and they are generally unobtainable, these days.
FCCM has fresh stock, and although many have been sold, some of them remain - at a fraction of this price.
Also worth looking into, in the latest FCCM, are the BAB Century Soccer 100 stamps from 1970. To find these
exceedingly rare, miniature gummed stamps in mint, un-mounted condition, like the ones on sale now, is remarkable!
They are bargains at the present price. These have also been known to sell for over £25 each!
So, tip of the day: get them from FCCM whilst they are on offer and you won't regret it when you see them selling for £50 in a few years' time.
If you seek to start or build a collection, we fully recommend you order a copy of
Football Card Collector Magazine (FCCM)
It has the best selection of soccer cards in the world, selling millions of football cards, with many of the
1%-end-of-spectrum, mega-rarities too. Send £4 payable to 'Garry Daynes' & ask for his 'football-bible'.
It's an epic! It's a 200-page price guide & sales magazine, now in its 17th year. Write to:
FCCM c/o Garry Daynes, P.O. box 234, Capel St. Mary, Ipswich, IP9 2DZ. Great Britain.
IMAGES : Billy Bonds, West ham United; and George Best, Fulham, from Ava Americana 'Football Special' 1977-78;
Layton of Stockport County by Bunsen, 1920s. Steve Heighway & Bob Wilson, by BAB Products 1970/71.
N.B. the BAB stamps of Liverpool & Arsenal players above are shown with classic, perforated edges but they also come
with alternative-style 'rouletted' (straight-perforated) edges. Those in FCCM now are these rarer-still issues.
---------------------------------------------------------------------------------------------------------------------------------------------------------------
Article #1. Published 12th March 2014. "John Allen, the man and his cards; and the roots of FCCM"
John Allen football collectibles - this is the man who started it all, John Allen, with his widow Jayne. John Allen RIP.
Here's John & Jayne when they lived in Spain, c.1998. They subsequently moved to Italy, where they lived for 9 years
This very shy man had a good life, a looker of a wife, and sports cards to kill for. Alas, he loved his food & drink too.